Well, shucks! My computer monitor went kerpluey. My repair guy says "Replace it." But now I have a choice to make. Buy just a monitor and keep my computer tower with XP and hope it doesn't go next or buy a notebook with that yucky Vista on it. I'm going to wait to see what my Tax refund might be, could be I can't afford the new notebook anyway. But this curtails my designing until I can make a decision. Luckily, I already uploaded your birthday gift and I'll give it to you early, just in case something else goes wrong. (It was going to be handed out on Friday the 13th. Yep! Every so often my birthday is actually on Friday the 13th!!!) I can still get online at work, so let me know if you like it or not. That will cheer me up, anyway.
I hate February. I know it's my birthday month but if something is going to go wrong in my life, it happens in Feb. My husband left me on my birthday, then the divorce was final in Feb. My dad died in Feb. My 1st cousin died in Feb. Last Feb, my mother was gravely ill and we almost lost her. She has since promised me NOT to die in Feb! LOL! These are just SOME of the things but they are the most devastating. So, here we go again. Keep your fingers crossed for me as this is just the beginning of the month. Who knows what else can go wrong before March 1st!
Ok, my birthday gift to you! (Say a prayer as you download. My bad luck has never rubbed off on anyone else before this but it helps to be on the safe side!) I just made up a little group of genealogy wordart to go with Grandmother's Parlor. I love genealogy!! Hope you do, too!
Here's the preview: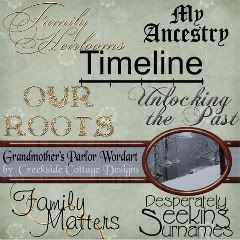 And you can go here to download:
Grandmother's Parlor Wordart Gift
Ok, hope this works and you can see the preview. I've never tried to put an image from photobucket on here before. I always upload a pic from my computer so hope you can see it and that you like genealogy as much as I do! Until next time - BIG HUGS!